Optical Component Design -- Hi Resolution Mask Issues
Steve DiBartolomeo
Applications Manager



Designers of optical components for the telecom industry take advantage of the existing mask and etching infrastructure developed by the IC industry in order to produce their fine geometry structures. However they frequently run into problems that were not anticipated because there are very important differences between optical layouts and IC layouts.

This article describes those differences, how those differences can cause problems in the masks used to define the structures and how one can work around such problems.

Our paper discusses the problems encountered when converting CAD data produced in AutoCAD (or equivalent layout software) which is converted to mask data.

Often there are two conversions -- first from the AutoCAD database into the IC industry standard GDSII stream database -- then into a specific mask making machine data format such as MEBEs. The machine that writes the mask, typically an electron beam writer manufactured by ETEC, reads the MEBEs database.
Characteristics of Optical Structures
Optical structures such as waveguides, couplers and switches are characterized by:
Narrow channels on the order of 1 um

Can be very long - up to 10,000 to 100,000 um

Width or spacing between wall guides changes very gradually

No sharp steps or bends are allowed

Design data is often described using curves or splines.
Waveguides in a Grid Based World
When optical designers hear about the IC industry's ability to image sub micron lines they assume that their structures should also be easy to image. However, some of their requirements don't align with the IC processes. For example:
IC CAD data is grid based. Many years ago the grid value was 1.0 um. It has steadily dropped to 0.5 um, 0.25 um and continued even below that. However in the IC world there is no need to smoothly change the width of a line -- So these tight resolutions may apply only for parallel and very short lines.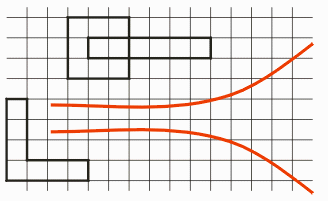 IC CAD data is never described using arcs or splines. In fact, even most lines are only drawn at 90 degrees. CAD data for optical structures that uses arcs must be reduced into line segments. This can be a major source of errors if the conversion rules and limits are not understood.