Introduction
The need to convert a "bitmapped" image to GDSII often arises when producing optical filters where the density is a function of x,y position on the filter.
For example, one may need to build a filter whose density decreases with distance from the center:
density = f ( r-r0 )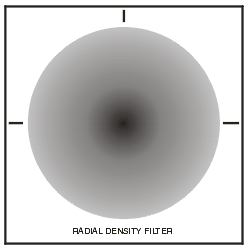 Such an image could easily be rendered on a imagsetter similar to those used to make film for magazines - but the resolution might not be enough for laboratory quality since the smallest spot these imagesetters produce is about 10 um.
By using an eBeam or high resolution laserwriter one can easily get pixels in the 1/2 to 1/4 um range.
Grey Scale
A grey scale filter is one whose density at any location can have a range of values: typically 256 steps from completely opaque (black) to completely clear. Since most mask making machines are designed to put down a high contrast spot, one must approximate the grey scale by creating a dot (which is much larger than the pixel size) and varying the size of the dot by building it from multiple pixels.
Set Area Proportional to Density
In the illustration below you can see the the mask area has been divided into large square "dots." If we could truly create a dot whose density was variable then our mask would look like the top row of dots.
Since we can't do that, we have to approximate the density by reducing the dot size so that the area of light it blocks is proportional to the density of the greyscale dot. That is, if we take the integral of the grey dot and take the integral of the smaller black dot the values are equal.