Neighbor Nets
If you are using NETEX-G to extract the conductors for a net or nets and you plan to use the data to create a SPICE equivalent model of the layout, then you will also be interested in nearby nets that may inductively couple to the net under consideration. We call these nearby nets "neighbor" nets. The user defines an expansion distance which used to see which nets qualify as neighbor nets.
It is not possible for the NETEX-G program to actually measure the whether a nearby net runs "parallel" or "perpendicular" to the net under consideration.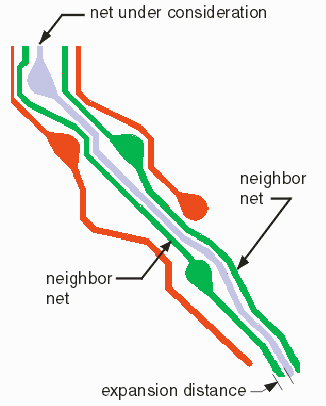 The blue net is the one to analyze. The green nets, because they overlap the area defined by the net under consideration + expansion distance, are neighbor nets. The red nets are not considered neighbor nets.