Graphical User Interface
Start up SFGEN
The main dialog will appear: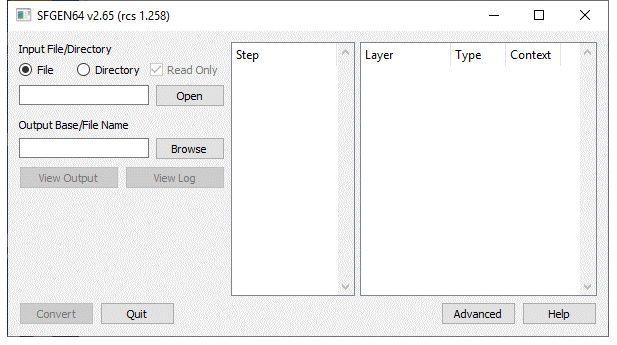 Input
Use the Open button to select (open) either:
a GDSII stream file (select File radio button)

an ODB++ file in .tgz format (select File radio button)

an ODB++ data hierarchy (select Directory radio button)

Read Only - if checked, SFGEN does not modify the contents of the input directory (for ODB++) and makes a copy. This may take more time if the ODB++ data is large.
Once you have selected the file, SFGEN will scan it, verify it is OK and will provide a list of Steps/Layers (for ODB++) or Cells/Layers (for GDSII) for you to select when running the conversion.
Output File
Use the Browse button to select the location of the output stream file and its name.
Output Layer
Select the layer you want your data to appear on for the output GDSII file. If you don't select any particular layer it will defaul to layer 0. (Only applies for ODB++ input; for GDSII input it matches the selected input layer.)
Output Cell
Select the name of the top cell (structure) in your output GDSII file. If you do not make an entry it will default to TOP. (Only applies to ODB++ input; for GDSII input, the output cell matches the cell selected from the input.)
View Output
Once a file has been converted this button will go from gray text to black indicating it is active. Clicking on it will launch a GDSII viewer (specified in Advanced -> Settings) to display the output.
Step
This list will show the available steps in the ODB++ file. You must select one of the steps (cells) - typically the user will select the top level Step (often named panel or array) which contains references to arrays of circuit steps.

For GDSII input, the list will show the "top" level cells only. (It is possible to process a non-top level cell for GDSII input using the command line.)
Layers
ODB++ and GDSII files generally contain many layers; however it is normal to rasterize only one of these layers per image. Therefore one should select the layer to process. If the user selects more than one layer:

a) for ODB++ input, only a single layer may be selected.

b) for GDSII input, the layers selected will be merged.
Convert
Clicking on the Convert button will start the conversion.
Advanced
Clicking on the Advanced button will open a tabbed dialog enabling the user to control Settings, Transformation, Annotation and Distortion.
Example
In the example below the user opened the ODB++ file called: 226.tgz and selected the step called "array" and selected the layer named "top".