The WMapConverter Utility
WMapConverter reads a number of different map file formats and produces any (or all) of the following outputs:
Standard SINF ASCII Wafer Map

DXF Layout

GDSII Layout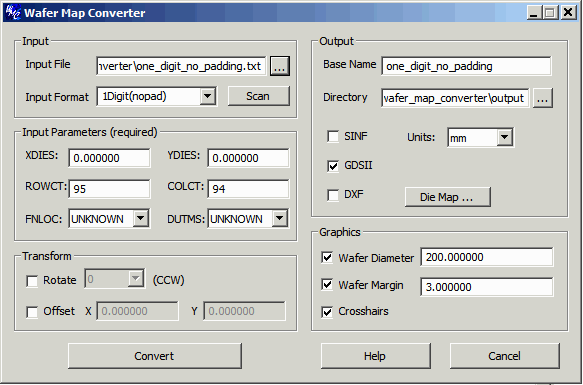 WMapConverter main dialog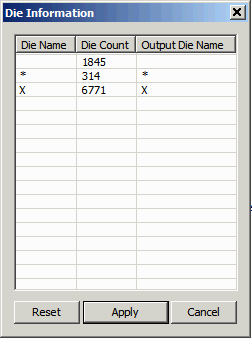 WMapConverter Die Dialog shows count and allows ID remapping
How it WMapConverter Works
The user loads the wafer map file and uses the pulldown to indicate what "flavor" of wafer map is to be converted. (See supported map formats ...) Once loaded the user presses the Scan ... button.

Input Parameters

After the input file is scanned, WMapConverter displays the critical input parameters in this section. If a particular flavor of map file is missing one or more parameters, the user needs to enter those values. This might be the stepping information, the units or the position of the wafer notch. Row and Column data can always be determined by the program for a valid wafer map file.

Output

The user selects the directory for the output file along with the "base" name. The output name will use the base name plus an extension: txt for sinf files, gds for GDSII stream and dxf for DXF file.

The user can also select the units of the output file.




Transformations

Rotation - The data can be rotated clockwise about the center in increments of 90 degrees. This is useful when the foundry provides the data with the notch in one position (say on the left side) but the RDL designer works with the notch in another position (say on the bottom.)

Move - since the wafer map has no positional information the entire array is intially centered about 0,0. However it is rarely the case that the array is actually centered 0,0 on the wafer. Therefore the program allows the user to add a shift to position the array exactly where it should be on the wafer.

Unfortunately, determining the correct value of shift is not always easy given the nature of the data provided by the wafer foundry. We'll discuss ways of determining that.




Die ID Remapping

The SINF map file format has strict requirements for the ID values of each die. Other map formats don't follow these restrictions so it becomes necessary to remap those into legal SINF values. The layer dialog not only provides the user a quantity for each Die ID, it allows the user to change the ID in the converted output.

For example:

Input Map  -->   SINF Map
   *       -->     __
   X       -->     01

Special Graphical Elements
The actual size of the wafer is not part of the wafer map specification. The user can enter the wafer diameter and margin and also have cross hairs drawn in the GDS and DXF Output. These additional items make it much easier to make measurements in the layout.